Kosovo gets support from the European and American and other countries around the world to declare independence. It was a historical moment that I watched live one morning.
It reminded me of Jawaharlal Nehru's speech on the night of Indian Independence. I wondered how the person making the speech might have felt.
Elsewhere in the world stable governments request for independence of regions captured and should be independent. Yet, when it comes to China and Tibet, all governments are silent. When the
violent protests
broke out this week the only statement released were "China should show restraint". They will go scot free once again - another protest will be crushed. I wonder about the monks arrested - are they still alive? Will they ever see the light of the day?
Two images come to my mind from younger days - A report on dignitaries visiting Delhi stopping at Dharmasthala to pay their respects to the quiet Dalai Lama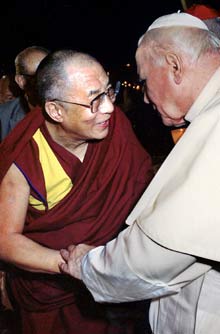 The memorial at Jalianwala Bagh itself while the one for Tianenmen Square is in Warsaw, Poland
One day perhaps the Chinese can have a memorial for Tianenmen where it occurred, the Tibetians on exile can return to their country and I wonder about Kashmir... When does history merge into the today?